In the run-up to Spirit of 2012's major Carer's Music Fund summit on 23rd June 2021, we asked the Carers' Music Fund grantees to look back on their projects as part of a new series of blogs called 'CMF Reflections'. First, Faye Atherton from the Blackpool Carers' Centre reflects on their 'Bang The Drum' project.
Our first foray into providing music-themed respite for carers came with our successful application to the Carers Music Fund and opened up to us a whole new world of activities, opportunities, fun and laughter!  We welcomed ladies and girls impacted by caring roles to join our Bang the Drum project to explore musical experiences, memories and creativity through a series of vibrant sessions including music and movement, percussion, ukulele, African drumming and song writing.  For many of our participants, music unlocked confidence to express themselves, create new connections and reignite long lost interests and memories. 
The combination of delivery on-site in our welcoming centre, alongside our links with Blackpool's Grand Theatre, created safe spaces for our groups to try new experiences together and gain confidence in accessing the theatre space.  Our ladies and girls informed the themes of the sessions with us providing the foundations of positive environments, a supportive team and additional resources including instruments and musical skills.
Our Bang the Drummers have gone on to form a regular peer group, providing informal support to each other.  They continue to immerse themselves in musical exploration by sharing their new skills, practising playing instruments, singing and planning theatre and cinema trips following easing of restrictions.  Our ladies and girls have told us how 'instrumental' (!) their involvement in the project has been in helping them to manage during the pandemic, bringing them a sense of identity outside of caring and a form of relaxation and connection with others that has been particularly needed over the past 12 months.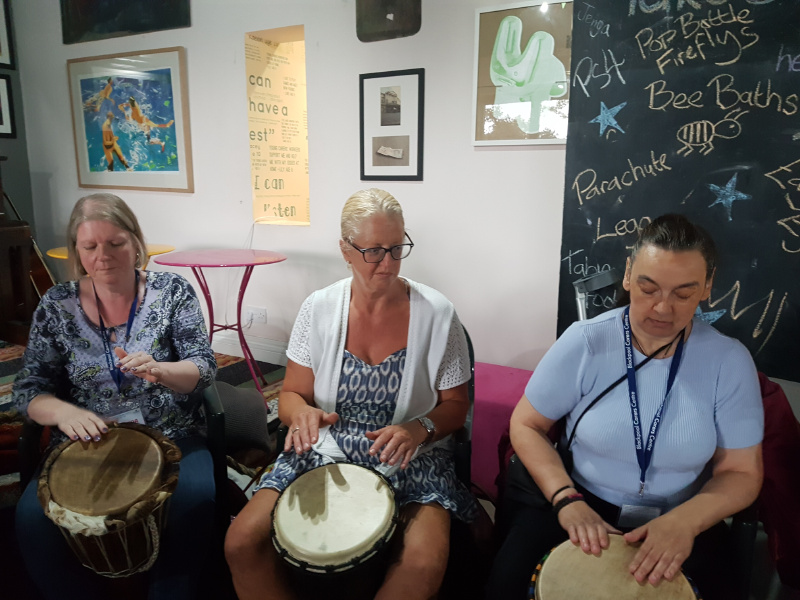 Despite the challenges of delivery over the past 12 months we have learnt so much about the impact of music on carers of all ages in helping them to manage caring roles.  We have been agile in responding to carers needs, bringing in digital delivery and outreach work to continue to bring music to our groups. 
We have strengthened our links with Blackpool Grand Theatre which is now looking forward to welcoming back our carers into their creative community workshops and their live performances as their doors begin to open.  At the beginning of the project many carers told us that they didn't feel that theatre was for them and that venues felt 'out of their reach'.  Our team have worked together with the Grand to reframe carers perceptions and help them to feel part of this wonderful community asset.
The legacy of Bang the Drum lives on through our team as all of our groups now benefit from the variety of skills, resources and instruments that we are able to use with carers of all ages.  We are grateful for the invaluable support and guidance provided throughout the project by Spirit of 2012 and the other Carers Music Projects.
Click to learn what went down at the CMF Summit and read the evaluation.
Click to find out more about the other Carers' Music Fund projects.