This time, UK Youth reflect on their 'Sound Creators' project, which offers young female carers opportunities for fun, creative expression and (re)discovery of self through music making.
Through the Carers Music Fund, UK Youth launched Sound Creators, a programme supporting young female carers to take a break and engage in 12 weeks of creative musical activity in safe spaces led by youth workers. With sessions ranging from rapping to DJing and from TikTok to ukuleles, youth workers and young carers had freedom to shape the programme. 
Delivered by six youth organisations across England and supporting 144 young carers, the project successfully reached young women and girls facing multiple barriers. Sound Creators served to highlight the unique value of the youth sector in supporting young carers, including those out of sight of statutory services.  
55% of the young carers had never engaged with carers support services. Given that 48% of these young carers had been caring for 3+ years, and with 59% caring for 20+ hours per week, this is a striking figure.  
Strong community relationships held by youth workers proved crucial, with youth workers working proactively and sensitively with young carers and their families to reach young carers in their communities. Whilst a number of girls were connected with Carers Associations through the project, for some young carers youth work was the first support they felt comfortable with.  
Despite the barriers and pressures these young carers face, and with the majority of delivery taking place through the Covid-19 pandemic, retention rate remained high on the programme at 71%, a clear indicator of how much this programme meant to the young carers. 
The flexibility of the programme was key to its appeal, as one youth worker articulated, "they liked it because they owned it". Sound Creators was designed to use music as a therapeutic tool; focusing on fostering expression and connection as opposed to pre-defined musical output. This allowed youth workers and young carers to work together to use music in ways that felt relevant and best supported the wellbeing of the young carers.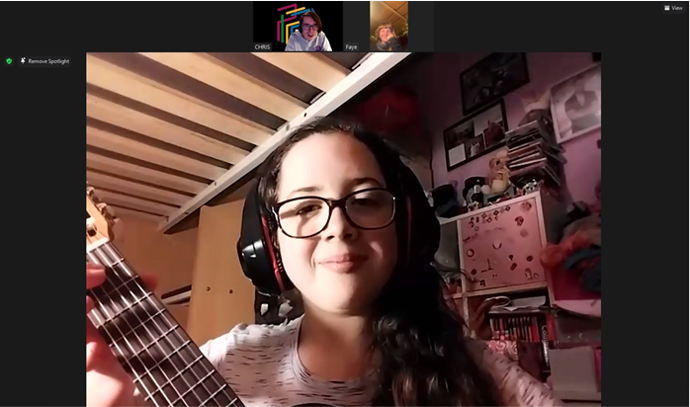 Kiera, 16, shares what Sound Creators meant to her,  "I had nothing to look forward to and my life was just about caring and school. I didn't have any outlet to go and express myself, I had just kept to myself. The tiniest amount of time I ever got to myself, I couldn't even have a way to show my creativity to anyone. I have finally found a place to be me."  
This depth of impact was echoed across many participants with 78% reporting feeling more confident, 77% more able to cope with their caring role and 75% sharing that they had made new friends. 
"When I hear from other girls with the same type of responsibilities as me I feel less alone. I have felt very alone in the past"  
The Carers' Music Fund has been made possible by funding Spirit of 2012 has received from the Tampon Tax Fund, awarded through the Department for Digital, Culture, Media and Sport (DCMS). 
Click to learn what went down at the CMF Summit and read the evaluation.
Click to find out more about the other Carers' Music Fund projects.