England's Lionesses are the footballing champions of Europe. For the hosts at Wembley, this was the perfect ending to a tournament which has matched high expectations, and gone on to exceed them, on just about every front.  
For England's women, a first ever major tournament victory. For UEFA and the host Football Association, record crowds capped by the highest stadium attendance in the tournament's history, and the largest ever television audience for women's football. For women's sport in this country, perhaps the greatest platform for growth that it has had for a century.
And for the Katwala family, the good fortune to see sporting history being made from the vantage point of the Gods at Wembley. We were in the 37th and final row of the top tier on the fifth level at Wembley, perched at the top of this theatre of dreams. 
My ten year old daughter Indira and I had become fairly loyal followers of England's women during this tournament, embarking on our own bespoke 'fish and chips tour' of the team's three games in the south of England.
We saw England set the tournament on fire with a ridiculous 8-0 win against Norway in Brighton. We trekked that same week to Southampton for England versus Northern Ireland, in time to spend a couple of hours in the fan park, trying out everything from face-paint and table football to how to make a tricky decision about a penalty in a VAR simulator, seeking to attract more young referees. Now the rest of the family – not enormous sports fans as a general rule, but able to appreciate the biggest of occasions – were joining in for the Wembley final too.
England versus Germany is the most potent of international football fixtures. Nobody now mentions the world wars – obviously – because all of that has been overtaken by this most legendary of great sporting rivalries. Sunday's Wembley final fell 56 years and one day from the last England versus Germany international cup final at Wembley stadium. "30.07.1966" was embroidered underneath the Three Lions badge on the red Bobby Moore replica shirt that I wore to yesterday's match. But what we were there to see was the Lionesses make their own history. "31.07.2022" is now the most famous date under the new Wembley arc, and it has created new legends of the English game.
Indeed, England versus Germany arguably has even greater weight as an epic match-up in the women's game.  As enormous happy crowds thronged outside the stadium in the hours before kick-off, the Wembley Way banners detailing the records of former champions had an ominous message: "Germany Champions: 1989 1991 1995 1997 2001 2005 2009 2013". That was not the most morale-boosting reminder that Germany had won the tournament eight times out of the last ten – and England never. England had reached the 2009 final in Helsinki, though Germany won that game by six goals to two. Yet England's Lionesses came into this final considered the equals of the mighty Germany. England had finally beaten Germany for the first time ever, at the 21st attempt, to take bronze in the 2015 World Cup 3rd/4th play-off, and holding their own in games over the last five years, including a pre-tournament victory. In Sarina Weigman England had imported the expertise of the only coach to win this tournament for anybody but Germany in the last couple of decades, leading the Netherlands to the title in 2017. So we arrived at Wembley, if not with expectation, but with some hope, mixed with trepidation too. 
Wembley nerves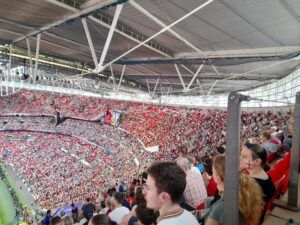 A hard-fought first half saw no goals scored for either team. But I noticed it was the German fans who were singing and flying their flags with more gusto during an injury break around the hour mark. Yet moments later Ella Toone, recently brought on as an England super-sub alongside Alessia Russo to lift England's energy levels, scored with an exquisite chip past the goalkeeper. Wembley went wild. With Germany pushing forward in response, their equaliser a quarter of an hour later was a disappointment, but not too much of a surprise. The teams could not be separated in 90 minutes. It was one-all at full-time. The teams were still level after the first-half of extra-time. You could feel an ominous feeling spreading throughout Wembley: the English fear of the penalty shoot-out. My sixteen year old daughter Zarina asked me which women's team might be better at penalties. Women's football is a completely different ball-game, I thought. No need at all to feel jinxed by unconnected memories and associations with something else entirely. Yet, asking around, I was quickly informed that England had lost both of their major tournament shoot-outs, while Germany had won two out of three of their own. So we bit our fingernails still shorter. But then, a goalmouth scramble after a corner kick, the ball bouncing around near the goal, before suddenly it was prodded across the line by Chloe Kelly. Mayhem in the stands. England were ahead. We just had to watch them hold on for five more minutes – and all thoughts of those dreaded penalties could be banished for good. The referee blew the final whistle. Three Lions rang out around Wembley, its meaning just changed by the game we had been watching. Then Sweet Caroline, before we were all dancing to a veritable wedding playlist of pop classics – Don't Stop Me Now, I Just Can't Get Enough, Freed From Desire- as we watched the England team lift the trophy and conduct their lap of honour around the stadium.
The Wembley crowd often seemed more nervous than the players at the scale of the occasion. The England fans had sung somewhat more in the group matches in smaller stadiums. A Mexican Wave was attempted, but petered out after a single circuit. It must have whizzed around the Southampton stadium a dozen times in the match against Northern Ireland – a happy occasion with little at stake.
A friendly final that entrenches a culture shift in football
It had been a combative, hard fought match on the field, but a very friendly final off it. Both national anthems were sung and respected. The players took the knee, briefly, before kick-off to loud cheers.  The German fans were packed into one corner of Wembley stadium, but there were plenty of German shirts and flags scattered amongst the England supporters too. A family from Cologne sat in front of us, the father waving his large Germany flag with particular pride when the equaliser went in. Disappointed by England's late goal, he stayed to see England lift the trophy, congratulating the home fans on the way out.
The crowd for this final at Wembley was pretty evenly balanced between women and men. My anecdotal guess would be that it was probably majority female – maybe something like 60:40. Alongside lots of mixed family groups, there seemed to be more groups of young women, on the tube, on Wembley Way and around the ground. One of my abiding memories of this football summer of 2022 will be the number of children at the games, and especially of the post-match songbook at each of the matches we were at. Not even Sweet Caroline could quite match the ecstatic belting out of Dua Lipa's "One Kiss Is All It Takes" after the final whistle by the Lionesses' teenage fan club behind the goal at Brighton, a sugar rush moment that had to be seen to be believed, the young fans seeming to take the concept of inclusive patriotism to another level entirely. So this had proved a very good summer to be passing the football bug down a generation and across the genders. 
I had come full circle – since it had been the eve of my own tenth birthday, almost four decades ago, when I saw my first professional football match, a Merseyside derby involving my club team, Everton, against Liverpool. Yet getting taken to that game was the product of a three year campaign of endlessly badgering my parents to go to a real football match. In hindsight, my seven year self was doubtless rather unaware of the football terrace cultural issues of the early to mid-1980s – from violence and hooliganism to the acceptance of overt racism. A generation later, I doubt anybody taking children to the Women's Euros had any similar reasons to worry – an enormous shift for the better in the culture around football stadiums (though the menacing atmosphere and dangerous mishandling of trouble at the men's final last summer shows there can be no room for complacency).
My experience as a teenager of the football culture of the 1980s explains why the culture shift which took place when England hosted Euro '96 had mattered so much to me personally. After that summer, I simply felt enormously more confident about going to watch international football – and, by extension, English national identity as a whole – because of how much the stadium ethos and culture had changed, symbolised by the new Three Lions anthem. What is worth remembering is that it is not long until we will be as far in time now from Euro '96 – already 26 years ago – as that tournament was from the 1966 World Cup. Much more had to change to nudge the reality much closer to those mid-1990s aspiration. This summer too showed how hosting major tournaments can offer the biggest chances of all to shift the dial decisively for the future.
How the impact of major events matters – in the moment and beyond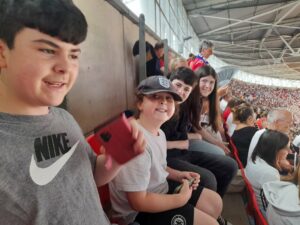 Just about every national newspaper front-page this morning declares that football has finally come home. That is testimony to how much "Three Lions" rewrote the narrative of English football for the better a quarter of a century ago.  What we have all probably now forgotten is that the idea of football coming home was not, originally, really about needing to win a trophy again. It began as a song about our pride, as the inventors of the game, in deciding to be good and inclusive hosts. Imagining the next victory was, in part. magical thinking – the triumph of hope over experience.
So the nostalgia of the song is not just for that one famous victory, before many of us were born, but also for our shared memories of all of those "oh so nears" too, the victories and the defeats which we have experienced together, which ground our shared commitment, whether we win or we lose this time around, to never stop dreaming for the future.
Now England's Lionesses have rewritten that script too. They will not want this trophy to become another one to gleam ever more strongly over the years and decades to come by becoming a peak that is never quite emulated against. It could now become a foundation in which England fans cease to hope against hope, but even begin to expect success too.
That may matter more because women's football was not about ending thirty or even fifty years of hurt but of giving the women's game a platform to finally recover from a century of marginalisation after the FA's destructive efforts to exclude women from the  game in 1921. We all know that sport should be about the taking part, but actually winning this tournament will undoubtedly help enormously in that quest for more status. (England's first round exit in Euro 2005, the last time it was hosted here, was one reason why then unprecedented levels of exposure did not quite provide the launch-pad for growth that had been anticipated).
The power of events begins in the moment. Hosting major events creates magical memories – for those of us lucky to be there, and for millions more watching on television – that can resonate for a lifetime. Whether these moments are happy but ephemeral occasions, or create a lasting impact beyond it, depends more on intentional intervention by those with the power to make a difference. The 2012 Olympic legacy funder Spirit of 2012 has recently been reflecting on this dynamic, a decade on from the London Olympics, in asking people for their personal testimonies of #TheEventThatChangedMe.
The Football Association will want to show in the weeks ahead that it recognises how much can now be done to seize the potential legacy for the women's game at club and grassroots level. 
Whatever happens in the future, England's Lionesses have provided new legends that should resonate for generations.  Alongside Sir Alf, Bobby Moore and Geoff Hurst's, now belong Sarina Wiegman and Leah Williamson, Beth Mead and Ella Toone. How this victory is recognised is one foundation for the further push towards greater parity of esteem, respect and status for women's football.  Wouldn't a prominent statue to immortalise the Lionesses somewhere prominent around Wembley Way be one good symbolic place to start?