Ahead of the tenth anniversary of the London 2012 Games, we are highlighting the power of events and how they can make waves that ripple through the lives of people and communities. Like Kirsty, 31 from Inverness, who is now enjoying a career in sports coaching after a life changing volunteering experience at the Games.
Our new polling reveals the continuing resonance, ten years on, of the London 2012 Games with 65% of the UK agreeing the impact of the 2012 Olympic and Paralympic Games can still be felt on them, their communities and the country. This isn't limited to the London 2012 Games, Peter an animator living in East Yorkshire felt the same effect when Hull was awarded the City of Culture, "as a creative organisation suddenly we were in a space where creative things were possible."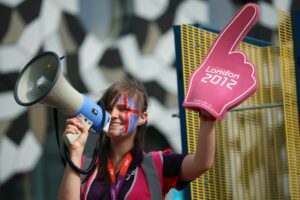 Being left with 'good memories' was cited as the most long-lasting effect of events, felt by a third of the public. However polling showed impacts are much wider than that with 18% talking about new social connections (8% rate making new friendships as most memorable, 10% meeting people from different backgrounds), and more than 1 in 5 strengthening existing ones (16% rating feeling proud of their country or community as most memorable, 12% feeling more connected to other people). Almost 1 in 10 said the most memorable thing about an event was how it has improved their community (8%).
The research also shows events make a positive impact across generations; with two thirds (62%) of the UK agreeing that the effects of the World Cup, which took place over 50 years ago, are still being felt. The same applies to the 1951 Festival of Britain, with a quarter of the public agreeing the effects can still be felt today.
Ruth Hollis, Spirit of 2012 Chief Executive, says:
"When events hit home with people and communities, they create waves that create new connections, bring together people from different backgrounds, increase national pride and inspire people to take action in their communities. This wide range of impacts on people can often be life changing and sometimes we aren't even aware they are happening.

"Given the right commitment and support these positive impacts can really flourish and build for years after. As our summer of major events, like the Women's Euro 2022 tournament happening right now, continue to roll out, we're getting everyone excited about the possibility of these unexpected ripples. If an event speaks to you and resonates with you at a personal level, you're more likely to feel its inspirational effects for years to come."
Spirit is putting a call out for all events, big and small, to consider how they make waves from the very beginning and are inclusive to all people with a wide range of needs and interests.
The public was asked to rank the positive impacts of events they have experienced:
44% ranked feeling more connected to other people in the top 3
44% ranked feeling more proud of their community or country in the top 3
35% ranked getting to meet people from different backgrounds in their top 3
28% ranked making new friends in the top 3
11% ranked deciding to volunteer, or become more active in my community in the top 3
Looking ahead three quarters of the public think events to celebrate the 75th anniversary of the NHS in 2023 have the potential to bring together people from different backgrounds.
Spirit of 2012 was founded by The National Lottery Community Fund in 2013 with a £47m endowment to continue and recreate the spirit of pride, positivity and community that inspired people across the UK during the London 2012 Games. Ten years later the charity is showing how events have changed people's lives across the whole of the UK:
Kirsty's story, 31 years old from Inverness
"I grew up in and out of school, struggling with my mental health. In 2012 I was given the opportunity to apply to volunteer at the Games in London. Seeing a stadium being setup and being part of that whole experience was life changing. So much so that two years later I volunteered on the Baton Relay for the Commonwealth Games. London and Glasgow reignited my passion for sport, volunteering and working alongside people and in 2016 I got my first job in physical activity. I would have never ended up with a career in sport if I hadn't been involved in the Games ten years ago – volunteering set me up and gave me the confidence I needed."
Peter Snelling from My Pockets film & animation studio, East Yorkshire
In 2017 we made the decision to move up north from the South West. City of culture wasn't the only reason we moved but it gave us the confidence; we knew we were going somewhere we'd immediately feel part of the bigger picture. As a creative organisation suddenly we were in a space where creative things were possible. People really bought into creativity and our way doing things, we've been able to be more daring with our work, more imaginative and work with different people as a result of it.
Hallie's story, 17 years old from Preston
'In 2016, I took part in the EmpowHER programme. The event that sparked this was the centenary of woman's suffrage in 2018. The EmpowHER programme is based in the UK and aims to give your women more of a voice about difficult issues that concern them. The other participants and I got a lot from this experience – it helped us be more confident, to take on a leadership role and to speak out about topics that aren't necessarily thought about as much. For example, an issue was raised about period poverty in local high schools that I was the ambassador for – and before we started talking about it, I wasn't aware it was an issue. Being part of something like EmpowHER helps you take a more independent approach to everything and makes you realise that you might as well get yourself involved in as much as you can. It's very rewarding!'
To mark the tenth anniversary, Spirit is calling on people across the whole of the UK to share their stories of how an event has touched their lives and made waves for years to come using the hashtag #TheEventThatChangedMe @Spiritof2012