The UK is facing a public health emergency amid persistent low levels of physical activity, according to our latest report Step Change: Working together towards an active society.
The report  states that 15 million adults are classed as physically inactive because they undertake less than 30 minutes of moderate activity each week. Nearly half of adults – 45 per cent – usually struggle to be physically active every day, according to an opinion poll conducted as part of the research. Older people, disabled people, some minority ethnic groups and those from lower socio-economic grades are more likely to be physically inactive. And regional variations show there are nearly 30 areas in England where more than 35 per cent of adults are physically inactive.
However, around a third of people across the UK walked, cycled or ran more than usual doing lockdown, with many spurred on by the free online workouts led by Joe Wicks.
While many have continued since restrictions ended, with up to 5.2million (22 per cent) of the least active people maintaining their lockdown walking habits, the report argues that action is needed urgently to build on the popularity of lockdown walking. The research also found that 63 per cent of those who live with dogs usually manage to walk or cycle more than 30 minutes every day, compared with 43 per cent of people who do not live with a dog.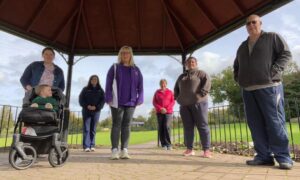 There are successful grassroots initiatives that have succeeded in getting the least active people to become more active, including projects funded by Spirit of 2012 and its partner organisations. The report draws from what it has learned from these projects and outlines eight principles it wants central and local government, as well as organisations and employers, to adopt to boost fitness levels. Among this advice is to move away from the body images often depicted in stock images of people exercising which can set intimidating targets, and encouraging small steps to physical fitness.
The report also has ten policy recommendations including targeted interventions at 'transition points' in people's lives, such as: puberty, when many teenage girls drop out of sport; when young people leave school; when they face new caring obligations; late middle age and old age, or after experiencing a disabling illness or injury.
Spirit of 2012 is also calling for the governments of all four nations to produce up-to-date strategies that take these principles as well as building on the popularity of lockdown walking, cycling and gardening.
Ruth Hollis, chief executive of Spirit of 2012, said:
"For a quarter of a century in this country, we haven't even dented levels of inactivity. There are a number of reasons for that. However, there are many grassroots programmes that have successfully shown that many of the barriers to becoming, and staying active, can be removed. The eight principles we're launching today in this report are the key ingredients for facing off the looming public health emergency.

"Now is the perfect opportunity: levels of activity, such as walking and cycling surged during lockdown, but this is already on the wane. We're calling on national and local governments, public health organisations, employers, and civil society to adopt these principles, and design sustainable strategies for decreasing levels of inactivity in adults before these habits are lost."
Read our new report Step Changes: Working together towards an active society in full here.