On a daily basis the Spirit of 2012 team has the privilege of hearing stories of innovation, connection and resilience across our grants portfolio. In the face of a pandemic that could have ground projects to a halt, we've been lifted by the resilience, fortitude and adaptability of the projects we fund.
Take the Music Challenge Fund for example. This cohort of four projects (led by My Pockets in East Yorkshire, darts in Doncaster, More Music in Morecambe and Canolfan Gerdd William Mathias in Gwynedd) work with a range of people from different backgrounds across communities to participate in weekly or fortnightly music-making sessions. Each organisation works in partnership with local health and social care bodies to refer people to the projects, with many staff members from these organisations taking part in the sessions themselves to provide extra support.
Improving wellbeing and decreasing loneliness sit at the heart of why Spirit of 2012 established this fund. Weekly sessions are far more than just a creative outlet for most participants. For many it marks an hour or two to socialise over a cup of tea, to be independent, to take time for themselves, or a chance to express how they are feeling in a safe, non-judgemental and creative space. Music Challenge Fund grantholders are highly skilled in participant-centred creativity; each person has an equal say in how sessions progress, and project leads take great care to ensure that everyone has a voice and an integral role to play, regardless of age or ability. Before lockdown we were seeing marked improvements in the wellbeing of participants across the Fund.  In one project, ONS4* wellbeing scores showed an average increase of 20% over the course of 10 weekly sessions.
*ONS4 Personal well-being survey questions measure personal well-being and respond to questions on a scale of 0 to 10. More detail here, please scroll down to section 2.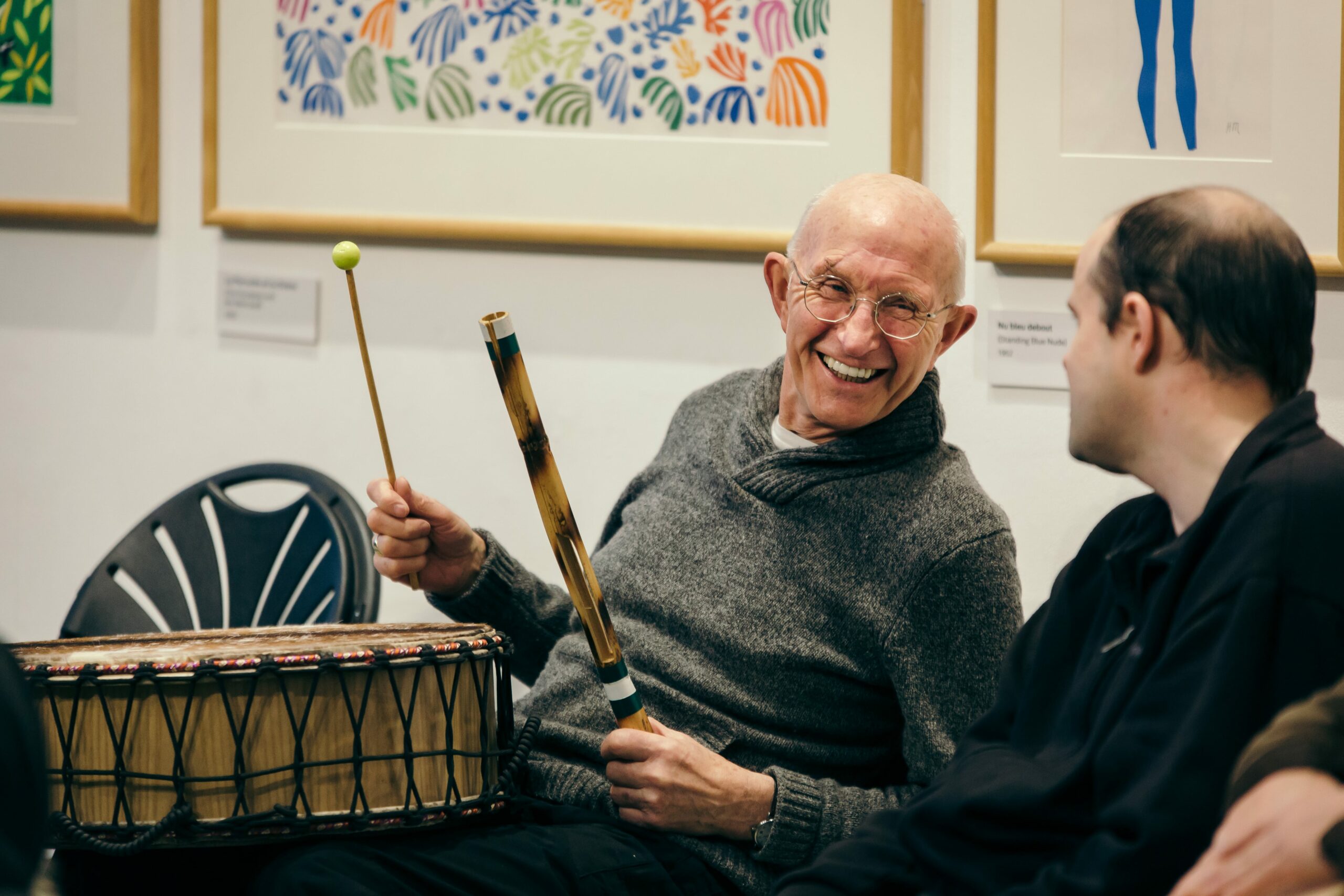 We were just getting to grips with the impact these projects were making when face-to-face sessions needed to pause in early March. Project leads worked quickly to devise solutions. Huge gains had been made in improving wellbeing and knowing how important the weekly or fortnightly contact is to so many members, projects knew that shutting up shop and losing contact was not an option. On 3 June, over a cup of tea on Zoom, we discussed some of what Music Challenge Fund grantholders have learned over this time.
Here are some of the key takeaways:
Socially distanced music making can make a big impact
More Music told the group about their dynamic duo, who sing and play music on the lawns of care homes for (and with!) groups of residents. Musicians also made front garden stops at participants' houses, with members of More Music's Seagull Café for people over 60s being treated to a socially-distanced song and dance over a cup of tea. These seemingly simple acts of creative connection are proving overwhelmingly popular, and More Music plans to continue working with care homes in future.
The previous year of music delivery created some solid relationships, which stood projects in good stead for a lockdown situation
Phone calls to participants in the early days of lockdown showed how important projects are to them. For Canolfan Gerdd William Mathias, current delivery for many members is simply to continue calling them on a weekly basis. For darts, the back catalogue of songs written by the Creative Directions groups in Edlington and Askern were recorded professionally by tutors and shared with them online. Working practices from Creative Directions sessions also proved fertile ground for lockdown creativity, with poetry packs challenging participants to write their own songs at home.
Digital solutions work well for some groups
My Pockets used this time to develop ways of using Zoom to make music with their young people. In online sessions they sampled and recorded sections of Zoom calls to make tracks. In the spirit of My Pockets' fun and high-energy delivery style, household objects such as wheelie bins and glasses of water became the instruments in an innovative online orchestra. Canolfan Gerdd William Mathias is similarly working with members and musicians in their "Canfod y Gan" / "Discover the Song" Caernarfon group to produce a recording of a song written by members wrote this past year. Each participant records a section of the song from home, which are mixed together to create a community-produced collaboration created entirely in isolation. 
This time is a reminder of who is not in the room
All Fund partners agreed that this time of experimentation opened the door to new participants, who may not have the means to take part in in-person sessions. Whether they're working with residents in care homes or members of the community who were unable to leave their homes before the pandemic, all partners are devising ways to lift spirits using music across their communities by online or physical means. While face-to-face participation will restart in the future, it is unlikely that these new elements of delivery will simply vanish when lockdown is lifted. The more options there are to engage, the more wide-reaching the impact.
Arts organisations have 'run towards people'
Music Challenge Fund projects demonstrate the power of music participation in improving mental health and wellbeing. While formal outcomes measurement is paused at this time of distanced delivery, qualitative feedback is already showing the value of what these organisations are delivering for its participants during the pandemic. With strong health and social care partnerships supporting and advocating for these projects, it is clear that music and wider arts organisations are proving their resilience and innovation in the face of major change. It will be a significant resource to the NHS in the months and years ahead to have such strong and socially-minded arts organisations and proven approaches at the ready to deliver its social-prescribing strategy.
Spirit announces £130,000 extended impact award to More Music for Music For Health projects in Morecambe. Find out more here.