Since its inception, Spirit of 2012 has funded many projects across the country which grant access to music for those who sorely need it. This is because, even long before Disney's Snow White told us all to 'whistle while you work', the wellbeing benefits of participating in music – and particularly, singing classes and choirs – have been crystal clear. Aside from the mental boost that comes with real-life social networking and inclusion, research from Oxford University suggests that singing in a choir can have physical health advantages such as exercising the brain, improving posture and even strengthening your immune system.
Health has been the question on everybody's lips this year in light of the ongoing COVID-19 pandemic. Recent guidance from the government states that 'voluntary or charitable services' and 'youth groups or activities' are exempt from the 'Rule of Six' and singing is allowed so long as social distancing is observed, meaning these volunteer-led choirs will be able to operate.
A recent podcast from WhatWorks Wellbeing provides plenty of evidence to show the positives of choirs continuing function during lockdown, whether it be over Zoom or socially distanced in-person meetups but questions remain over what the best way to do this is.
This was one concern that was raised during one of our recent All Grantee Sessions and to get to the bottom of it, we held another session especially for those whose work involves communal singing to share their thoughts and ideas. Following an invigorating session, representatives from Creative Arts East, My Pockets, UK Youth and more brought forward plenty of learning for how their choirs could still get the best out of their projects.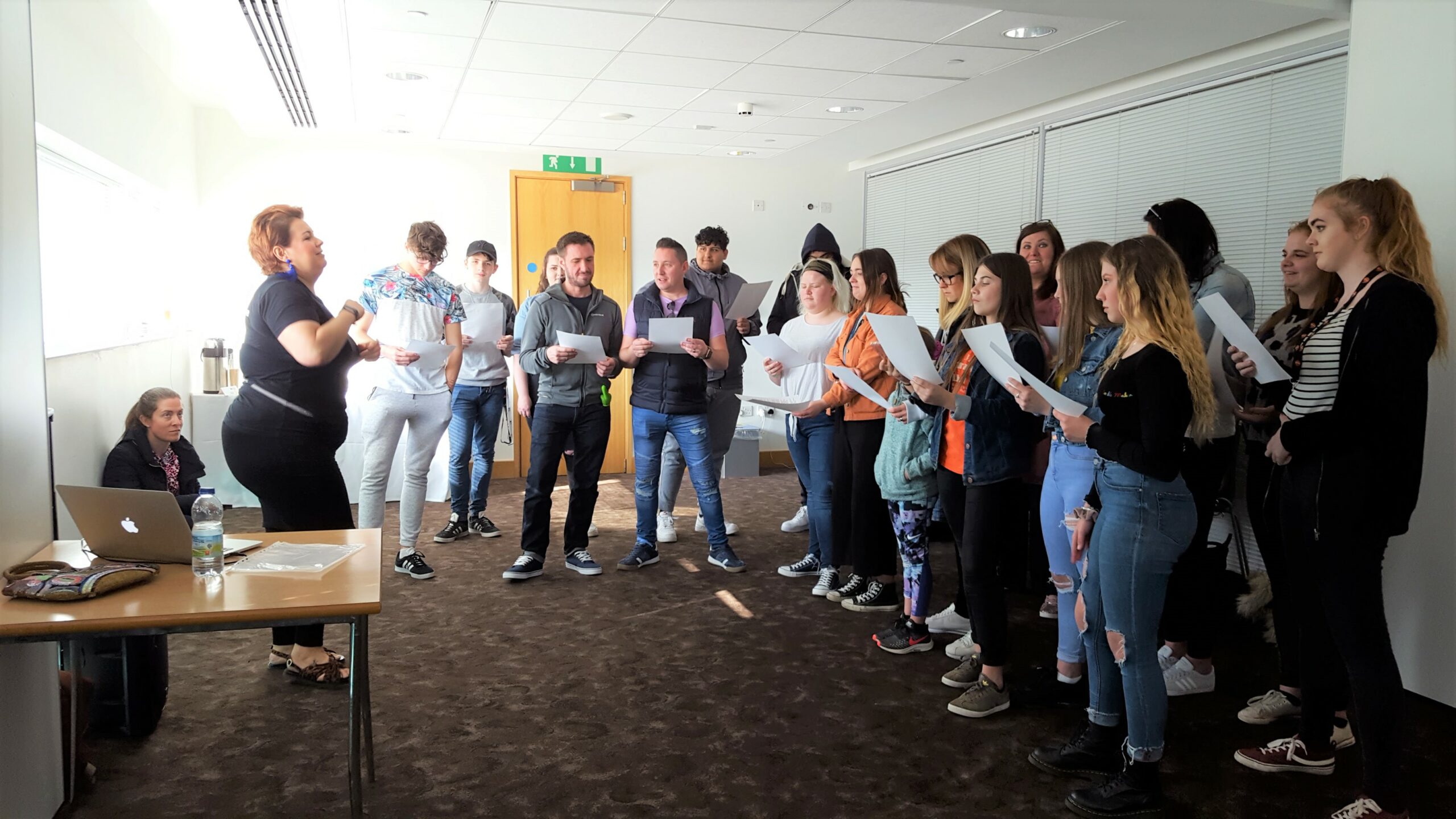 Safeguarding volunteers and attendees

The key things grantees wanted to share were the different ways they could safely hold in-person sessions so that participants could still feel the social benefits in real time. This of course means effective social distancing and holding classes outside or in well-ventilated and spacious rooms where possible.
To minimise transmission by droplets, choirs are encouraged to sing no louder than at a speaking tone and avoid exaggerating consonants and plosive sounds, as well as keeping any background noise or accompaniment quiet to discourage having to sing loudly over the top. Using a big screen or projector for lyrics also saves participants from having to share songsheets.
Masks which cover the face and mouth present something of a challenge for singers, and hence a dilemma for organisers. However, one workaround which came out of the grantee session was to ensure that everyone wears their mask when moving through the building, though they can remove them once they are in their safely distanced seat. If organisers can provide them, transparent pop-up screens and face visors provide an elegant solution to this problem.
Including different participants and effective social distancing
Some questions grantees had came from ensuring social distancing measures are followed during sessions, particular in cases which involved young children, elderly people and adults with learning disabilities. These are the groups who often enjoy and benefit from the social aspect of communal choirs the most and enforcing strict guidelines felt improper in this case to many organisers.
Some suggestions for tackling this included reserved seats, seats facing away or clearly marked areas on the floor to ensure that everyone stays within their zone during the session. Individually wrapped and served refreshments were also recommended – after all a cup of tea and a slice of cake is a big motivator for some!
Engaging people remotely
In order to protect participants who are at a high-risk of COVID-19 and those who care for people at high-risk, most grantees have continued to teach and conduct virtually. During the early stages of lockdown, many made a concerted effort to check on the welfare of people from the programme in other ways. More Music's over-60s choir has been unable to meet in their usual weekly Tuesday timeslot, but volunteers have been calling participants and doing house visits where appropriate to ensure they are still brought music.
Others like My Pockets and Jack Drum Arts have used tools like Zoom and Ableton to make music completely remotely, while other still engage in 'blended sessions' combining those you are able to visit in-person with participants who can only be present on-screen but still feel part of the action. Where this isn't possible and the whole class has to meet on Zoom, extensions like the gaming and quizzing app Kahoot exist to make the experience fun and interactive for everyone.
Times remain uncertain and recommendations from the government may change, but certainly there is something to be said for these projects finding a way to continue amidst the pandemic. After all, with the potential for more isolation on the horizon, the happiness and wellbeing boosts that come with communal singing are needed now more than ever.
We are holding the Carers' Music Fund Summit on Wednesday 23rd June. Click here to find out more.