This summer marks ten years since the London 2012 Olympic and Paralympic Games, and last week the National Audit Office (NAO) published a report Grassroots participation in sports and physical activity , and we were delighted to contribute to the research. The report highlights the perceived failure to deliver the promised legacy on sports participation, citing the decline in sports participation by adults in the three years immediately post Games and the Government's waning interest since 2016.
Current research shows that 14.5m (28%) adults in the UK are classified as physically inactive, with an annual cost to the UK of £7.4bn and this figure has barely shifted in recent years. As Spirit of 2012 set out in our recent Step Change report this needs to be a national priority, not just for sports bodies but for everyone with an interest in the health of the nation.
Can the social legacy of major events like the London 2012 Games be effective in reducing inactivity?
One of the flaws with the legacy promise and the measurement of success was that it focused predominantly on people's inspiration seeing world-class athletes being a catalyst for them to participate in Olympic, Paralympic and more traditional sports. The reality is that most of us are very far from elite athletes and unlikely to be inspired solely into mainstream sports offers.
We welcome the report's acknowledgement that the biggest gains for the nation's physical and mental health will be achieved by getting the least active – those further away from the Chief Medical Officer's guidelines, and those with the greatest barriers to participation – active in a series of small steps and for the long term. To genuinely make the difference in getting people active, unattainable numeric targets don't work. We know this needs to be delivered through sustained, deep investment to tackle the deeply-engrained barriers to being active. This is not a numbers game.
Spirit of 2012 was set up by the (then) Big Lottery Fund in 2013 to sustain what they saw as the 'social legacy' of the Games – the way all the events of that summer brought people together and increased people's feelings of pride and positivity. That summer was short-lived but the Fund and Spirit's founding Trustees believed it was possible to use events as a catalyst to sustain some of those social outcomes in the way that legacy programmes are planned and delivered around events.
We know that sport and physical activity can be a powerful mechanism for wider benefits of improved physical and mental health, reductions in loneliness, and feelings of connection to people and their communities. With our focus on sustaining the Paralympic legacy we also recognised that enabling disabled people to become active needed to be at the heart of our response.
Reaching inactive people: The GOGA approach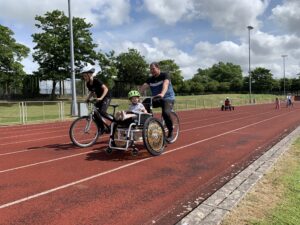 In 2015, post-Glasgow Commonwealth Games but pre-Rio, we set out to explore where Spirit's investment might have an impact on getting people more physically active. We consulted with all the nation's sports councils, disability sport organisations and public health bodies and it became clear was that there was no issue with supply − there was no need for us to pump money into creating more interventions – the issue was about supporting the very least active, and their families, to get and stay involved in all forms of physical activity. This meant designing ways to enable them to take 'small steps' to being more active with people in settings and in ways that felt familiar and comfortable to them, and understanding both that it takes time, and that the road to becoming active is not straight and can be quite bumpy!
We were delighted that Activity Alliance, leading a coalition of partners including the Welsh, Scottish and Northern Irish disability sports bodies, a number of national governing bodies of sport, and local partners was awarded the grant to deliver Get Out Get Active. Get Out Get Active (affectionately known as GOGA) uses the insight that Activity Alliance and their partners have developed and consolidated in their Talk to Me principles, to design approaches to physical activity that break down the barriers for the least active. One of the key components of this approach is enabling people to be Active Together with their friends and families.
The programme takes a 'test and learn' approach, working deeply in specific locations and with specific groups that are most likely to be excluded. By working this way, the programme generates learning and insights that can be applied more widely to other inactive groups, for example working with disabled people and their families, home-schooled children in Wales, with young trans people in Liverpool, and Muslim women and girls in Bradford. Inactive people aren't one homogenous group, so understanding the different barriers as well as learning from the commonalities is core to the GOGA approach.
By 2023, GOGA is on target to reach 40,000 people across the UK, with seven in ten participants being classified as physically inactive. Retention data shows that two out of three participants are sustaining their increased levels of physical activity during and after the programme. Participants have told us that they feel better, both physically and mentally, with increases in wellbeing and decreases in anxiety.
A social return on investment (SROI) study showed us that GOGA was delivering an impressive £8.83 return for every £1 spent. In 2019, we were delighted that Sport England agreed to jointly fund the second phase of the programme with Spirit and the London Marathon Community Trust, to extend the programme's reach and ensure that the learning is embedded in future development.
Making a 'step change' towards increasing physical activity
Spirit's recent Step Change report takes the evidence from GOGA, together with other funded projects with the Scottish Government and recent polling, to consolidate Spirit's insight into eight underpinning principles for successfully engaging the least active in sustained physical activity and makes ten recommendations for more strategic change. At the heart of this is working in partnership, across government, locally and nationally. Some of the most powerful partnerships we have seen develop have been between sports and health bodies.
Sport England's Uniting the Movement strategy is a very welcome step in approaching physical activity in a way that will help more people get and stay active, but as we set out in Step Change, to make a real and lasting difference it needs wider commitment from across- government the voluntary and community, faith and education sectors.
Ten years on from the London 2012 Games there remains a significant opportunity to build the social legacy of major events – the current Women's Euros, Rugby League World Cup and upcoming Birmingham Commonwealth Games – to inspire people to be more active. But to really make the health and wellbeing change the nation needs, this will only work with partnerships and targeted, detailed, person-centred work with the very least active.
Learn more
Get Out Get Active project page
Step Change: Working together towards an active society
Nearly ten years down the line, what legacy does London 2012 have?