More Music was funded by Spirit of 2012 as part of the Music Challenge Fund. The project followed a social prescribing model, using singing to treat mental health conditions and low wellbeing in participants.
I am writing from More Music, a community music education charity based in Morecambe on the NW coast of the UK. Like lots of seaside towns, as featured in Chris Whitty's coastal communities report, it is a mixed picture. The neighbourhood has high levels of social and economic deprivation, has suffered from disinvestment since its nostalgic heyday and yet has a resilient community spirit, incredible third sector organisations, blossoming creative partnerships and glimpses of reinvention and investment on the horizon.
We celebrate our 30th birthday next year, and as an organisation we continue to develop ways in which we can build spirit and confidence in individuals and community through creative activity, the ethos at the heart of our work.
We are approaching the end of three years of funding from Spirit of 2012, which has enabled us to develop our work supporting social and mental health initiatives in Morecambe, particularly our neighbourhood, the West End. A pilot year in 2019, was followed by two years of extended impact funding as the pandemic hit. This enabled a new, dedicated staff member and additional organisational capacity to focus on managing three projects and three different partnerships.
Connecting our community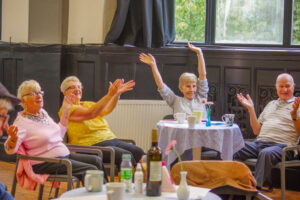 The three new groups supporting social and mental health in our community are Seagull Café for anyone over 60, Sing It Out a group for 11 to 18-year olds and a beginner Drumming for Health group for vulnerable adults at a local charity. Each of these is a unique partnership and has to work very differently in terms of delivery, needs and any future developments.
One frustration, in the current social prescribing landscape, is the financial resourcing of third sector projects. Many arts organisations are looking to the NHS to financially invest in projects that are of value to community health.
Thanks to the Spirit funding we were able to create and deliver the project we had in mind for NHS partners. We could focus on building shared understanding and quality assurance with Social Prescribers and local ICC (Integrated Care Community) that could demonstrate the impact and potential of community music projects. We created a new way of working together, it was sometimes tuneful and sometimes clunky, just like community music. Our local Primary Care Network is now directly funding our Seagull Café project for the next year, after the Spirit of 2012 grant ends.
Our young people's project, highlighted some lack of connected provision for young people locally. Strong networks and services, all working at crisis level, struggled with referrals into something non-clinical, that wasn't quality assured in the same way as their services. Thanks to our existing positive relationship with CAMHS and an improved partnership with our local NHS, our local PCN (Bay Primary Care Network) have a funded social prescribing role for young people at More Music.
Things don't always go as planned and even with partners on board at the application stage, things change. For us, this included a restructure of our local CAMHS which saw an end to co-leading of our specific youth session. The partnership began with co-delivery so we sought additional, smaller connections for referrals rather than one key partner.
Partnership and purpose
As in any partnership project, it takes time to agree purpose, roles and expectations even when we have clear shared aims. This takes time and is often agreed through the process of working together, we created a Memorandum of Understanding agreed with NHS Primary Care Network more than two years into the project.
There was an additional beneficial impact on the wellbeing of our partner staff. For one NHS staff member, it became 'protected time' in their weekly timetable to balance a stressful workload. Once retiring from their NHS job, they became a regular volunteer at the session to support their own wellbeing and continue as part of the group. In ways we didn't expect, connecting more people to the music.
Building trust
As a cultural organisation, these partnerships enabled a wider reach in our community. As an ACE NPO and inclusive organisation, we acknowledge there are groups of people in our neighbourhood, who don't come through our doors or access our activities, yet. Through our Seagull Café project, we have new participants living with dementia and their partners/carers, some people with learning disabilities, some living with co-morbidities, that have crossed over to join some of our other events/workshops since. This has been facilitated through a range of agencies signposting and referring to the group.
One partner is a local faith charity, that support some of the most vulnerable adults in our community, dealing with homelessness and recovery. Through supporting their wellbeing programme, we have had the chance to make music with individuals who would not have ventured into our building, had little or no experience of More Music. Again, through small steps and trusted relationships, some new individuals are engaging in other parts of our wider programme.
Critical research
We have a long-standing relationship with the International Centre for Community Music (ICCM) who we engaged to lead critical research with us on this project. This provided a supportive, critical and developmental process to help us all understand better how and why we work in partnership.
We chose not to research effects of music/singing on wellbeing as there is large evidence base for this. We did choose to research, as per recommendations from 2019 WHO report, how music and health partnerships could work across different sectors in Morecambe, how others value the work we do, as well as looking at how we create something together for our local community's health. Making the research relevant.
We're pleased that our research highlighted the often underestimated, strategic influence of the music leaders, rather than exclusively the job of managers or project directors. Music leaders do this through creating key relationships with staff, modelling good practice and being a 'link/bridge' for participants to other activity. We are in the stages of sharing this evaluative research, in different ways. You can read the report from 'Working Together'.
Most importantly, of course, is the music. Our company includes talented, skilled, versatile musicians, always finding new ways to encourage participation and collaboration with each group. This way of bringing people together, growing a sense of belonging, becomes an anticipated highlight of the week, that builds stronger community. More Music please!
TOP TIPS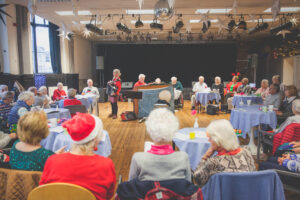 Make it a quality experience. The calibre of music leaders is something regularly appreciated by participants, consider the best match for each group.
Remember the CM hospitality – the welcome, the requests, the goodbyes, take time. Make it feel special with food and drink and even table cloths!
Understand the particular health needs in your area that the Primary Care Network will be looking to improve.
Balance this with your own experience and knowledge of working in the community and what you feel and see the impact to be from Community music groups.
Create a partnership to explore a pilot, working together. Who is ready and interested to do this with you?
Make sure you have regular check ins, phone catch ups or set up steering groups if appropriate with key partners and collaborators.
Foster an open collaboration and critical relationship between partners, always asking how can we make this work better for our community, together?
Consider some time shadowing in each other's organisations. Understand the different environment, culture and roles we are working in.
Know the expert grounding of CM practice. Through working in partnership, this helps to reflect back the expertise we have but often take for granted.
Work to create an agreement about how you plan to work together in partnership.
Look for opportunities to reach wider NHS staff in terms of participation (conferences, outdoor events) so they can advocate and signpost for you.
Openly discuss costs from the beginning, (E.g. for a musician to lead a session including planning, travel etc) and acknowledge where funding can subsidise and where it can't.
Make a short video of one of your sessions however simple – it is the one thing we used most for professionals and participants
Learn more:
Music Challenge Fund projects tackle Covid isolation
Music For Health project page