As our investment partnership with Spirit of 2012 comes to an end, we at Creative Arts East are taking a moment to reflect on our incredible seven years as a grantee – outlining what we have learnt along the way and the future potential for impactful project-funded arts and health programmes.
Our Day Out is an award-winning programme of free, inclusive, high-quality creative workshops for older people in Norfolk, running twice-monthly in nine communities, including Thetford, Hunstanton, and Great Yarmouth. Born from a 2014 pilot by Breckland Council and Admiral dementia nurses to address rising dementia diagnoses in the district, the programme aims to increase the wellbeing, social connectedness and confidence of participants.
Spirit of 2012's new investment greatly increased Our Day Out's county-wide reach and impact research capabilities. We partnered with Dr Hannah Zeilig, Reader in Arts and Health at the University of the Arts London and Dr Paul Camic, Emeritus Professor of Psychology & Public Health to better understand the significance of participation on the wellbeing of beneficiaries. Using Dr Camic's Canterbury Wellbeing Scale, we confirmed that participant wellbeing saw a statistically significant increase (p<0.05) after participation. As a result of this finding, the programme received an Arts & Health award from the Royal Society for Public Health in 2019.
Our Day Out is a 'lifeline' for older people with transport and/or health restrictions particularly in socially and rurally isolated locations.
This recent report by Dr Hannah Zeilig and Millie van der Byl Williams not only highlights the programme's key outcomes but presents the national challenges facing older people. With 1.1 million people predicted to be living with dementia in the UK by 2030 and 1 in 3 older people feeling lonelier in the wake of COVID-19, there has never been a greater need for preventative and responsive arts for health programmes like Our Day Out, particularly those proven to work.
Alongside investment from Spirit of 2012, Our Day Out has been made possible between 2016-2023 with strategic project investment from a variety of stakeholders, including Norfolk County Council, Breckland Council, King's Lynn and West Norfolk Borough Council, North Norfolk District Council, The Earl of Northampton's Charity via The Mercer's Company, National Lottery Community Fund,  and Independent Age.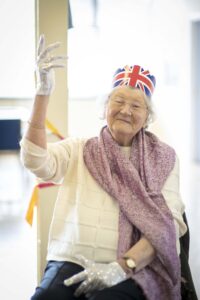 The programme has collaboration at its heart and is built on the indisputable links between creativity and wellbeing, uniting public funders, local authorities, and arts and health professionals under a shared goal. By building these relationships, the programme reflects how a united approach can change the ways people receive care by re-establishing a local network of support in people's own communities, and how this could reduce a strain on our NHS.
It is not possible to sustain these important and impactful arts for health programmes on cycles of project funding alone. Our Day Out is a 'lifeline' for older people with transport and/or health restrictions particularly in socially and rurally isolated locations. These vulnerable beneficiaries require consistency and continuity to maintain the positive health benefits of their participation; but as it stands Creative Arts East has not secured advance, long-range investment from health and wellbeing stakeholders due to the shifting sands and evolving frameworks of our local health and social care system. This puts the future of Our Day Out, and the wellbeing of its current and future beneficiaries, in real jeopardy.
For 2023, we are using our own resources to maintain a reduced level of delivery, whilst actively fundraising for the programme's continuation, talking to beneficiaries about financial contributions, and exploring strategic connections with health and wellbeing partners around the social prescribing agenda. There is much more to be done.
If you would like to talk to us about the impact and future of Our Day Out please contact Natalie Jode, Executive Director, on 01953 713390 or email [email protected].
Further information