In one of the highlights of 2022, our chief executive Ruth Hollis travelled to Seoul, South Korea – the home of the 1988 Olympic & Paralympic Games – to speak at a huge forum about the legacy of events. Here, she recounts the experience and what she learned from her counterparts as the decade anniversary year of London 2012 draws to a close.
In October, I was honoured to travel to Seoul to take part in the inaugural Seoul Olympic Legacy Forum, bringing together a significant number of past and future Olympic cities with a specific focus on legacy for the first time. It is a credit to the IOC and their increasing emphasis on making sure legacy is increasingly recognised and prioritised. It was particularly timely in the anniversary year, having done so much thinking about the impact of the London 2012 Games ten years on, and to really think about how the London from compares with other past and future Olympic and Paralympic host cities.
Following star turns from IOC President Thomas Bach and former UN Secretary General Ban Ki-Moon, the conference was packed with fascinating presentations and discussions from legacy from across the Olympic family. Before the conference I wasn't aware of the huge ongoing impact from the Seoul 1988 Games – which they talk passionately about being a pivotal moment for Seoul that has left a significant, lasting transformation of the city that we saw first-hand as we were shown around. It was also great to see that South Korean researchers are also interested in measuring wellbeing and perceptions of disability as we are at Spirit of 2012 and have followed up with them to have further discussions about shared interest in learning.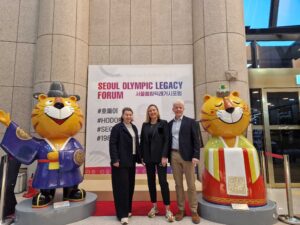 Ten years on from London we were asking ourselves how long legacy could be relevant for – is ten years long enough? In Seoul we also heard about vibrant and enduring legacies in Los Angeles, Lillehamer, Vancouver and Sydney, showing, alongside our hosts, that there shouldn't be a time limit on how long we use the power of a Games to engage people, particularly young people, in sport and physical activity and in their communities. There was a palpable sense of pride associated with hosting a successful international event even many years later that is clearly able to sustain action that very few other events would.
I was delighted, and very honoured, to be able to present Spirit's work to the conference, and for Spirit to be recognised in this group as part of the wider Olympic and Paralympic legacy family. Spirit is different – partly this is a result of our span across arts and culture, volunteering and social action as well as sport and physical activity. It's also because we focus on working though through future events and commemorations and across the whole of the UK, not just London as the host city.
We have a lot to learn from the other previous host cities, especially about potential long tail of legacy twenty years or more after the Games. We also heard some really inspiring plans from future host cities like Paris and Brisbane, who are redefining what legacy means anew. I am glad that others can learn from London, and this highlighted our need to continue to be open to learning from others.
There is a question about how long we are able to sustain the impact, and what we want legacy to look and feel like in the future to really ensure that we maximise the potential and the investment of hosting the Games that halcyon summer 10 years ago.
Read more:
With a focus on people and targeted, sustained investment, the legacy from major sporting events can deliver participation
The Anniversary Of London 2012 Olympic Games – The Social Value Of Events?
Did the London 2012 Paralympic Games change things for disabled people?