We set out the six dimensions of social value produced from our research, explaining how, in relation to community events, some of these can be seen as collective values (community, place, participation), individual values (wellbeing and skills) and negative values often associated with running events or as protest which may not necessarily be a negative.
Understanding social value relates to the ways that events affect people and their communities; by contributing to greater social cohesion, opportunities to build communities, social networks and, providing support to increase civic pride or social capital.
Some of the collective values discussed with groups running events within their communities presented many positives. These included: being valued, being included, reducing isolation, developing civic spaces and places, and increasing participation within and for communities. But, just like the event itself, if you are looking for outcomes and outputs relating to social values, you need to plan for them and, to understand what inputs are needed to achieve them.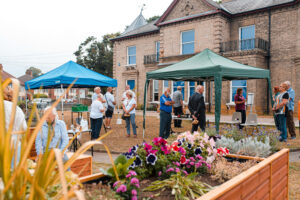 As we celebrate the anniversary of the London 2012 Olympic Games and ahead of Birmingham Commonwealth Games 2022, and The Queen's Jubilee Events, Tamsin Cox ran through how to use an event guide, working through the event template we developed with our audience to demonstrate that you could dip in and out of this resource depending on the scale of evaluation needed for your event.
The Jo Cox Foundation's James Austin talked about the concept of more in common and how the Foundation looks to events to bring people together. Gurvinder Sandher from Kent Equality Commission also talked about tackling racism through events and utilising events to bring people together. Both of these are key areas covered in the collective values of events and outcomes of the social value of events.
The UK Government's levelling up white paper specifically refers to some of these social and collective values; for example, local pride and creating a sense of belonging. This is also mirrored in the Scottish Government's National Performance Framework, with qualitative wellbeing outcomes measured by organisations across the whole of Scottish society, as well as quantitative statistical indicators. This wellbeing framework includes values such as treating people with respect and kindness, and measures social attitudes — things which can be qualitatively evaluated in communities rather than at a national level.
The social value of community events focuses more on qualitative measures and evaluation techniques but utilises quantitative measures when necessary. It offers a more holistic approach to evaluation than an approach based around economic impact. More information and full report can be found here
With thanks to Spirt of 2012 and Local Trust for commissioning the work and hosting the webinar.
Feeling inspired? Download our Social Value of Community Events Toolkit at this link.