The London 2012 Games has been seen as a turning point for attitudes towards disabled people in the UK, and our Paralympic Anniversary research suggests that most of the public agree: 70% of people believe the London 2012 Games had a positive impact on attitudes towards disabled people, and only 6% disagreed. Two thirds of people believe that, in general, attitudes disability have improved over the past decade.
Ultimately, events cannot solve the systemic inequalities faced by disabled people. For that reason, we should be cautious about uncritically celebrating the Paralympic Games, especially if it gives non-disabled people an excuse to feel good about how attitudes have improved, without contributing to the wider changes that need to happen.
However, what events can do is increase the visibility of disabled people in society, showing people as individuals. There are still many attitudes that need to change – 64% of people, for example, believe that "many people feel awkward in the presence of disabled people" – and disabled people are more likely than non-disabled people to agree with this statement. 67% of people believe that many people have negative stereotypes of disabled people.
Our polling showed that half of non-disabled people believed they rarely or hardly ever met anyone who is disabled, and 83% of our respondents believe that many people don't understand the needs of people with hidden disabilities. High profile broadcast events can increase knowledge and understanding. They have an opportunity – and a responsibility – to model inclusive practice. There are many examples of great practice out there, and we were delighted to fund Critical Mass as part of the Birmingham 2022 Commonwealth Games. The team there are committed to sharing what's worked – and what hasn't – with other event organisers and host cities, so that we continue to improve on what we learned in London 2012.
With this in mind, we have asked three of our partners who have a wealth of experience in this field to comment on the polling and what it means for disability inclusion going forward.
Amy Finch – Head of Policy & Impact, Spirit of 2012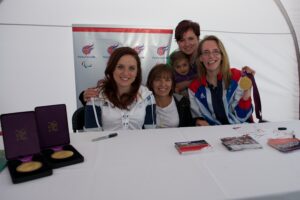 Without doubt, the London 2012 Paralympic Games helped to change many people's attitudes about disabled people performing at elite level in sport. As the new polling from Spirit of 2012 demonstrates, we shouldn't underestimate the power major sporting events can have to change attitudes towards disabled people. For Activity Alliance, this goes far beyond the event itself for we know that not every disabled person wants to or can be a Paralympian. The event on home soil and amplified across the world meant more funding opportunities to grow its legacy at a grassroots level.
Backed by robust insight and our knowledge of barriers to participation, we embarked on an impressive collaboration to shape a powerful programme. With support from founding funder Spirit of 2012, our Get Out Get Active (GOGA) programme launched in 2016. Collaborating with national and local partners across the UK, GOGA reaches into communities and supports the least active disabled and non-disabled people to be active together.
Now in its 6th year of delivery, GOGA has a wealth of evidence that shows how disabled people's attitudes have changed about sport and physical activity. We've seen how people's attitudes have changed for the better because of a better understanding and more opportunities to connect.
Working with our partners, deliverers, volunteers, and beneficiaries, we've been able to create healthier, happier, and more connected communities. However, as the polling and our latest Annual Disability and Activity Survey suggests, there is much more work to do.
Disabled people are twice as likely to be inactive than disabled people. We aim to close this gap with our 2021-2024 strategy – achieve fairness for disabled people in sport and activity by focusing on these two goals:
Changing attitudes towards disabled people in sport and activity
Embedding inclusive practice into organisations
We encourage you to champion and work with us towards our vision – fairness for disabled people in sport and activity.
Find out more about our work on the Activity Alliance website.
Access learning from our Get Out Get Active programme on the Get Out Get Active Resources webpage.
Barry Horne – CEO, Activity Alliance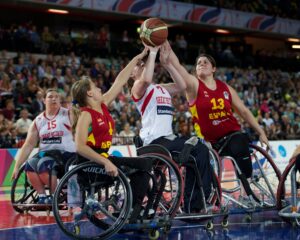 Ten years on from the London Paralympic Games, it is good to reflect on how far the disabled people's movement has come, how the ground has shifted, and where the new fights are to be fought.
The Paralympics felt like a landmark for our country, where the general public's attitude towards disabled people changed for the better. The polling highlights that cultural changes have been happening, but many of us have yet to feel that shift impact our daily lives. Improved attitudes alone do not change policy, provision or access.
A decade later, despite research showing that attitudes are changing, disabled people are still disproportionately impacted by inequalities. We have a far greater likelihood of living in poverty, are less likely to access education and employment, and are far and away less likely to be able to get active.
Just as the pandemic has affected disabled people disproportionately in almost every aspect of life, there was a drop in activity levels and widening inequalities. The ongoing effects of the pandemic have created new barriers for disabled people. Throughout our work, we have heard how important the continued development of grassroots organisations and community sports and physical activity is. They are crucial spaces to support disabled people to exercise their right to get active, have fun, and be part of a community.
The Spirit of the 2012 Games must live on through a new attitude toward access and activity. 91% of disabled people want to be more active. We must focus on how sport and physical activity can be co-produced with Disabled people at heart. Real co-production will open up a new world of movement for Disabled people – one we have all been waiting too long for."
Kamran Mallick – CEO, Disability Rights UK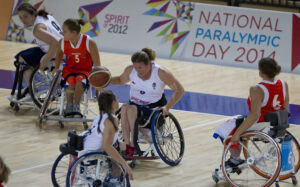 The London 2012 Paralympic Games really were a seminal moment for ParalympicsGB and the most recent research from Spirit of 2012 reinforces the incredible impact those wonderful Games had on challenging perceptions of disability.
This important survey demonstrates that Paralympians can be a powerful catalyst for change in society but also recognises there's still lots of work to be done.
That is why our new 10-year strategy, Championing Change, focuses on not only the continued excellence of ParalympicsGB athletes competing at Paralympic Games but also on the wider social impact by working in partnership to deliver real and sustainable improvements to the lives of disabled people across the UK.
Our youth education programme Get Set, delivered in partnership with Team GB, plays a vital role changing young people's attitudes to disability while celebrating diversity through integrated sport programmes. We are incredibly proud that it has engaged with 93% of UK schools since launch.  While our award-winning community sport programme Parasport aims to empower disabled people with the information they need to discover the activity that is right for them. The Spirit of 2012 survey identifies that more still needs to be done and we remain focussed on how these programmes can be even more effective.
Our celebration of the tenth anniversary of London 2012 featured athletes reflecting on what it means to be a Paralympian. It highlighted the impact of those historic Games in showcasing disability sport and inspiring disabled people to believe they could achieve their dreams. It also recognised there are still many challenges to the lived experience of disabled people. Natasha Baker, a multiple Paralympic champion explained: "Whenever I go out, I pretty much know I am going to face a problem as a disabled person. Its 2022 and everyone should be equal but, unfortunately, it's still not the case."
By working in partnership and hearing the experience of Paralympians, not as sporting superheroes, but as disabled people in the UK we will continue to strive to deliver our vision of Inspiring a better world for disabled people through sport.
Jill Puttnam, Head of Social Impact, ParalympicsGB
Further information
Ten years on: London 2012 Paralympic Games were a turning point for changing attitudes to disabled people
About the research
In August 2022, ICM Unlimited and Walnut Unlimited conducted a nationally representative survey of 2350 people.  Survey sample boosted to get nationally representative sample of disabled people, including those under the age of 50. Alongside this, Spirit of 2012 undertook four online focus groups of people from Scotland, Yorkshire & Humber, East of England and South of England. At least 2 of the participants in each group, and all the Yorkshire & Humber group, identified as disabled or had a long-term health condition. One of the groups was made up of young people 16-23 without a college degree.