Despite spending fifteen years working in journalism and having covered local sports events in Pakistan, the inaugural UCI Cycling World Championships (CWC) represented the first international sports event I have had the opportunity to attend in person. I was pleasantly surprised, as a Pakistani woman who had not been brought up to see cycling as an activity open to all, to read about the CWCs ambition to provide a platform for equality, diversity, and inclusion.
In the CWC Equality, Diversity and Inclusion Framework, the UCI event recognises that "we can use our platform to give voice and presence to groups and individuals who are underrepresented in cycling". Coming from a South Asian background, observing events taking place around the city, I immediately drew a comparison between the atmosphere of the 'public events' in Glasgow and those I had been used to experiencing back home in Pakistan.
As a woman in Pakistan, even attending local events in public can induce feelings of insecurity and fear. However, my experience of attending and researching the CWC events in Glasgow was very different. As I watched the elite cyclists zoom past and local residents roll up on their bikes to experience this 'mega' event, I was thinking about why girls in my own country are often prevented from being part of these elite cycling races because of a lack of resources, social taboos, or other prioritised leisure and sporting preferences. I felt the difference between empowerment and the facilities that are provided to these women to excel and shine.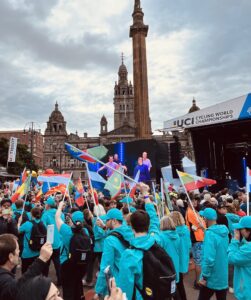 At times, after closing my observation notes, I became a spectator, sharing the enthusiasm and joy of other spectators. Excitement was also accompanied by possibility, so often limited for people from minority ethnic backgrounds, for example. One Scottish woman asked her child to watch, "how hard she is working to win, do you want to be like her when you grow up?" Cycling is not considered a viable option for girls and young women and is gradually diminishing in Pakistan.
A middle-aged Pakistani man started talking to me, perhaps because of my South Asian appearance. He told me that he was attending the CWC races on a daily basis along with his grandson. He explained how his other family members now felt encouraged to ride a bicycle because of being able to watch the event in his home city, "The whole atmosphere is charged, my grandson wants to be a cycling champion when he grows up".  At a 'Go Live' South Asian-focused music event hosted in George Square as part of the CWC cultural programme, a Nigerian woman who was dancing and enjoying the experience radiated with joyful expression. Traversing the city, the spirit and atmosphere generated by the free and accessible road race events brought the city to life.
We know from previous work published on the Social Value of Community Events that the spectacle of events can generate heightened levels of enjoyment, pride in place and positive feeling of subject wellbeing. However, we also know that these effects can be temporary, unless accompanied by investments and activities that enable the affective elements to be sustained and translated into material change. In the course of my research, I have found out about the investments in cycling facilities and community programmes that will continue long after the CWC are over. Glasgow Afghan United, a local Glasgow charity, is one example of an organisation that has used the catalytic effect of a large event to bolster its work with Afghan women to provide them with access to bikes and train them how to ride bikes safely as a means of active travel and leisure.
This a great example of how strategic commitments to the promotion of positive equality, diversity and inclusion outcomes through events can be translated into practice, empowering those living on the margins to access and gain enjoyment from cycling, one of the simplest forms of active participation. The CWC slogan, the power of the bike, can be used to catalyse positive social change as long as the buzz of the event is sustained through continuing political will and policy commitment.
To find out more about the FestivalsConnect project, follow us on @Fest_Connect.
Learn more