There's a viral challenge doing the rounds. You know the one, you face a wall, lift your foot up to the wall, pivot, put your hands on the floor, lift the other leg up to meet it and bring it over your back and head. It looks easy, but of course it's not.  Why am I telling you this? Because on Tuesday I was lucky enough to attend the dress rehearsal of the opening ceremony of the Commonwealth Games, and it looked effortless.
What a show! I can't share any more of course, but I was reminded of the hard work that goes into making something looks easy. That illusion of ease if you like, like a swan paddling furiously but barely making a ripple.
When you layer on the sheer scale of an opening ceremony, which will be experienced live by 35,000 people at the Alexander Stadium, not to mention the 1 billion viewers watching it across the world, the task is monumental. And for 200 of tonight's performers, and the people who've been working with them, there was even a bigger challenge: to create a mass performance piece, when every individual participant needs a bespoke experience?
This is the challenge faced by Critical Mass, a ground-breaking dance programme which at the same time, both genuinely inclusive and integrated. Their mission: to form a new dance company of disabled and non-disabled young people to show how genuine inclusion can be achieved in huge events such as the Commonwealth Games.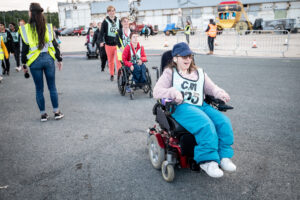 Inclusion and integration are two words that need quite a lot of unpacking. Firstly inclusion. In order to be genuinely inclusive, provision needs to be made for every access need, every adjustment, no matter how small. That provision needs to be the rule, not the exception.
I became aware of this when, back in March, I visited rehearsals in a hall at Birmingham's NEC for Wondrous Stories, a performance in Centenary Square in April that would launch the Birmingham 2022 Festival. I was talking to some of the young women taking part, and halfway through became aware that my words were being, without me even being aware, interpreted into sign language by a BSL interpreter.
After speaking to them, I joined a group of parents and guardians, all of whom came from Shropshire, and spoke of the rota they'd created to drive the mini bus to the NEC so their children and grandchildren could attend the weekend rehearsals. They spoke of the difference having access to transport had made – the difference between being able, or not being able, to be part of it.
"As a deaf person I never thought that dance would be something that I would be good at. Having been part of Critical Mass I've been inspired by everybody – the dance leaders, choreographers, participants – to just go out there and do it!"

Sarah, 28, Critical Mass Participant
Then integration, which in my mind is about parity of experience. In the Wondrous Stories performance, Critical Mass dancers performed alongside professional dancers. The choreography for all of the movement, for all of the dancers, was world-class, overseen by the excellent Kevin Finnan MBE, who choreographed the London 2012 Games Opening Ceremony.
There was no set piece devoted to Critical Mass, everyone performed together. For tonight's opening ceremony they will perform alongside professional dancers from Birmingham Royal Ballet, wheelchair dance group Freewheelin Dance Company and students from Elmhurst Ballet School, amongst a cast of thousands.
When we announced the award of a grant to Critical Mass, we prepared a statement about the cost. With a grant of £1m over 14 months for 300 participants, we expected that there would be questions. It's not just about the experience for those 300 though. Like any funder, we seek to learn, to share, to create a better world.
The evaluation for Critical Mass will come in time, but for now here's on insight we can share: investing in access, transport, caregivers, respite care, support workers is essential for people to participate. But it's not cheap.
Like Critical Mass, the Commonwealth Games is inclusive and integrated with para athletes and athletes competing at the same time. Tonight, along with millions of others, I'll be watching the opening ceremony at home, thinking about the hard work, the commitment, the hiccups and mis-steps, the sweat and the tears, and the possibility of a future where we don't think twice about inclusion.
Learn more
Critical Mass project page
On your marks, get set; our T-10 preview of Spirit's Birmingham 2022 Cultural Festival projects
Spirit of 2012 awards £1 million to Birmingham 2022 to deliver ground-breaking mass participation dance programme with 300 young people from the West Midlands